September 22— National Voter Registration Day — is a nonpartisan civic holiday that celebrates the cornerstone of our democracy, the vote, by creating broad awareness of voter registration opportunities.  In addition to providing information about voter registration and other resources, the day is an appropriate occasion to underscore that the success of the American democratic experiment relies, at its core, on the rule of law and the right to vote.  It is also an important opportunity to commemorate those who fought — and continue to fight — to ensure that all Americans can exercise the franchise.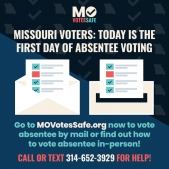 Since the early days of the Civil Rights Movement, ADL has faithfully honored its mission to secure justice and fair treatment to all by fighting for universal suffrage and against voter suppression. It has always been clear that respect for basic democratic principles of liberty and equality is essential for any marginalized or vulnerable community to thrive, and in any democracy that starts with equal access to the ballot.
This year, against the backdrop of the COVID-19 pandemic, the right to vote is once again at risk. In 2020, everyday issues and decisions — including whether to wait in crowded lines and rooms to vote, whether and how to vote early, and whether voting-by-mail will be easily accessible — take on added complexity. This is especially true for members of marginalized communities who have been disproportionately impacted by the pandemic due to longstanding and systemic racial inequities.
Meanwhile, the polarization of our society has left us vulnerable. Extremists within the U.S. are looking to exploit this moment to their own ends. They are constantly seeking ways to promote ideologies that are racist, antisemitic, misogynistic, homophobic, transphobic, Islamophobic, and/or anti-government. Social media enables their hate and conspiracy mongering, and leading tech companies have fallen disappointingly short when it comes to limiting or preventing the cesspool of misinformation and bigotry prevalent on their platforms. In the past two national elections, we also saw foreign state actors and non-state actors take advantage of social media and other means in an attempt to exacerbate divisions and spread disinformation among the American electorate. Federal law enforcement and national security officials have already seen similar and even far more sophisticated attempts in this election.
The freedom with which extremists have been able to operate online is a key reason why ADL's Stop Hate for Profit campaign has met with such widespread support – demanding that Facebook take common-sense steps to address the rampant racism, disinformation, and hate on its platform, now increasingly seeking to undermine our elections. The complicated reality of the incredibly noisy, poisonous information glut we face as election day nears is precisely why a sustained, multifaceted approach is necessary to safeguard not only the right to vote, but also the integrity of the election itself.
Although the 15th Amendment was ratified in 1870, prohibiting the government from denying (males) the right to vote regardless of race, and the 19th Amendment was ratified in 1920, prohibiting voting discrimination based on sex, securing the right to vote for all Americans took much more than an amendment. Jim Crow-era laws used literacy tests and other barriers to voting to deny African Americans their Constitutional right to vote. The Voting Rights Act of 1965, which ADL supported, was an important step for ensuring equitable voting rights because it prohibited racial discrimination in voting. Unfortunately, the U.S. Supreme Court dramatically weakened this landmark bipartisan piece of civil rights legislation with its decision in Shelby County v. Holder in 2013. That case gutted a key component of the Act that required certain states with a history of discriminatory voting practices to provide notice and "pre-clear" any voting law changes with the Federal government. ADL joined an amicus brief arguing that, to ensure free and fair elections, this requirement should be maintained.
In the past decade, 25 states have enacted new voting restrictions making it harder for voters, especially people of color and members of other marginalized groups, to register to vote and cast their ballot. So far in 2020, at least 35 bills have been introduced that would hamper equal voting access in 15 states. These efforts have included more restrictive voter ID laws and burdens on absentee voting, not to mention unnecessary voter roll purges, such as in Texas, where a dubious voter purge was halted by a federal court last year. 
We have seen this play out in the 2020 primaries. In Georgia, in Wisconsin, and in Kentucky, for example, voters either lined the streets for hours because of a drastic reduction in the number of polling places, did not receive requested absentee ballots on time, or faced other hurdles that made exercising the franchise difficult, if not impossible. Moreover, many Americans, particularly communities of color, students, the elderly, people with disabilities, and low-income individuals will be unable to vote in the upcoming election due to disenfranchisement laws or lack of access to the polls. Indeed, one in thirteen Black Americans cannot vote because of disenfranchisement laws. In 2018, 70% of Georgia voters purged from the voter rolls were Black.
As our nation reels from the murders of George Floyd, Breonna Taylor, Tony McDade, and countless other Black people before and after them, finding meaningful ways to dismantle systemic and enduring racism and inequality is a priority. A crucial part of any effective response lies in ensuring safe and accessible voting, accompanied by the assurance that our elections will be conducted and votes counted with nonpartisan integrity.
There have been some positive developments in this regard.  For example, last year New York passed significant reforms that will increase access to early voting, allow pre-registration for minors, enable portability of registration records, permit same-day registration, and introduce no-excuse absentee voting. California provides another example of expansive laws to increase voter participation and access, allowing same-day registration, early in-person voting, and mail-in voting that is postmarked by election day. In November 2020, California ballots will be accepted even if they are received up to 17 days after the election. However, huge challenges remain.
Flaws in our current system are revealed in the dramatic increase in important election-related litigation in recent months. Over 190 lawsuits about the government's handling of elections during COVID-19 have been filed across 43 states and the District of Columbia. Many of these lawsuits seek to expand access to voting, and some have so far been successful. Vote-by-mail, which has consistently been shown to be a reliable and secure form of voting, is a particular focus of these lawsuits. In Minnesota, a judge approved changes that would make it easier to vote by mail for the November general election. In Montana, a judge issued an injunction to stop a law that would restrict how mail ballots can be gathered, which would have had a severe negative impact on Native American voters.
Recently, ADL's Southwest regional office and the Texas NAACP filed a brief in Houston to defend the authority of the Harris County Clerk, Chris Hollins, who faced a lawsuit from the Texas Attorney General to block Hollins' plan to send ballot-by-mail applications and voting information to all 2.4 million registered voters in Harris County. On Sept. 11, a state district judge ruled against the Texas Attorney General, rejecting the argument that the planned mailing exceeded the County Clerk's authority. That decision is now being appealed and, we hope, will be affirmed.
Amid the blizzard of commentary, the flurry of litigation, and the mass confusion on social media this election cycle, we must not lose sight of what is most important. Free and fair elections are a prerequisite to securing just and fair treatment to everyone who lives in this country. That is why working on voter education and engagement, analyzing and reporting on how extremism affects the election, and speaking out against campaign-related appeals to bigotry and hate are priorities for ADL.
Registering to vote is the first step. It is imperative that we as a society also continue to vigorously oppose efforts to undermine the right to vote, including restrictions on ballot access, voter suppression, and the subversion of the electoral process.
It will take the concerted effort of many individuals, communities, organizations, and government officials at every level to ensure a safe and fair election this year. The fate of our democracy depends on it.