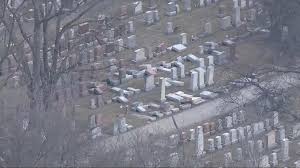 St. Louis…April 25…The Anti-Defamation League (ADL) today welcomed the arrest of a Florissant man charged with vandalism at Chesed Shel Emeth Cemetery in University City, Missouri, in February 2017.  After a lengthy investigation, University City Police arrested 34 year-old Alzado Harris, who confessed to the destruction of more than 150 headstones. Harris's DNA was obtained through a jacket found under one of the toppled monuments.  Karen Aroesty, ADL regional director, issued the following statement:
"ADL was waiting to learn whether or not the case would be prosecuted as a hate crime, which requires evidence of motivation that Harris chose the cemetery intentionally because it was a Jewish one and he wanted to target Jews.  It appears that such motivation is not present.  Harris was apparently angry at a friend and alcohol and drug use fueled his remarkable rampage at the cemetery the night in question. While it won't be prosecuted as a hate crime, there is no question that at the time it certainly felt hateful to the Jewish community, both in St. Louis and far beyond.  While we waited on the investigation, some seriously impressive community building and interfaith expressions of support came from all over the world, including crowdfunding by the Muslim community and engagement with interfaith friends in St. Louis and globally; they understood the emotional impact, especially for the families who experienced damage to the headstones of their loved ones."
ADL today also thanked University City Police for their work, particularly Lt. Brian Isenberg and his team at the Bureau of Investigations.  "I am glad and surprised that there was a DNA match, something truly not common in many of these cases; we certainly appreciate the time it takes for such investigation to be complete".  Aroesty added.