St. Louis, MO, January 23… ADL Heartland welcomes Jennifer Schwesig as Chair of the Regional Advisory Board. She begins a 3-year term this month. Schwesig, a partner in the St. Louis-based Armstrong Teasdale LLP, leads the firm's International Practice Group. She also serves as a member of the executive committee for the International Institute Board of Directors, has served on the United Way's Women's Leadership Society, and brings a strong history of community engagement and collaboration to her new role for ADL.
Schwesig succeeds Aaron Vickar, who, during his 3-year tenure, guided the region to increased partnership and engagement with next generation leaders, developed new partnerships and established a streamlined, tech centered approach to board engagement.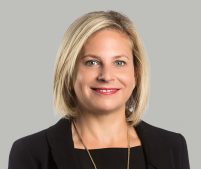 Schwesig completed her undergraduate work at Kenyon College, her law degree at Washington University and graduate studies in international and comparative law at Georgetown University Law Center. She was chosen as a Law360 "Rising Legal Star" in 2010, named a "Rising Star" by Missouri/Kansas Super Lawyers® (2009, 2011-2013) and recognized by the St. Louis Business Journal as one of St. Louis' 40 Under 40 (2008).
"She brings a truly global perspective to her vision about how ADL, in this remarkable time in history, can best achieve our stated goals while responding to the challenge of current events in the Heartland," offered regional director Karen Aroesty. "I couldn't be more excited to have her at the helm."
ADL is the world's leading anti-hate organization. Founded in 1913 in an escalating climate of anti-Semitism and bigotry, our mission is to protect the Jewish people and to secure justice and fair treatment for all. ADL's ultimate goal is a world in which no group or individual suffers from bias, discrimination or hate. ADL Heartland covers Missouri, Eastern Kansas and Southern Illinois. Follow on Facebook @ADL.Missouri on Twitter @ADLHeartland on Instagram @adlheartland.